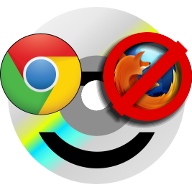 just browsing Only Chrome Flavor
Web browsing made simple.
Google Chrome and that's it.
By popular request this edition does NOT contain Firefox.
Additionally, printing is disabled to save space.
JustBrowsing is a bootable Linux "Live CD" that does not make any changes to the existing operating system on the computer. Enjoy a simple computing experience with only a web browser (Google Chrome). Bundled webapps include a calculator, text editor, timer and more that are always one click away. Try JustBrowsing, it's safe, secure and no install necessary.
Just the right
amount of
bookmarks
included

Handy addons
are already
installed
Designed with old machines in mind. Don't throw out your old computer, put JustBrowsing on it! No logins, no malware, no sluggish boot. Perfect for guests. Boot from CD-ROM, USB, hard drive, I-ODD, or Virtual Machine. Releases are built with the latest stable version of Chrome. It is loaded up with useful bookmarks and sensible extensions "out of the box" with the freedom to add your own and even to sync your profile with Chrome Sign-in.
DuckDuckGo
or choose
another
search engine

Intruder
detected!
4 failed
attempts
Privacy is important and your browsing history is erased when you turn off the computer. The default search uses DuckDuckGo which does not track your search history and does not "filter bubble". Ad blocking is installed to protect you from misleading links and tracking advertisements. "Do not track" is enabled too. JustBrowsing comes with a lockscreen to protect your privacy if you have to leave the computer and alerts you of intruders. The JustBrowsing project is free and open source. Based on ArchLinux i686 (32-bit). Now available optimized for x86_64 (64-bit) too.
Proudly Powered by